Essences, aromas and essential oils
For over 70 years we have been producing essences , natural fragrances for the food and the pharmaceutical industry, fragrances for candles, perfumery and cosmetics, distributing our products all over the world. Since 1945, the year in which the company established in Geneva, we have sustained our work of continuous research and production of the best fragrances for the body, the home, the kitchen and the pharmaceutical industry. Our recipe is a delicate but stable balance of technology and commitment.
NATURAL FRAGRANCES
Muller & Koster has created a new catalog of Natural Fragrances.
The catalog includes mixtures of 100% natural essential oils.
The new fragrances are addressed to all customers who desire an exclusive and 100% green product and of course to regular buyers of essential oils and oil blends and to users of natural fragrances for cosmetic use, make-up, food supplements, oral hygiene and personal hygiene.
FRAGRANCES
Among the fragrances produced there are fine fragrances for eau de toilette and cosmetics, soaps, detergents and finally fragrances for candles, potpourri and incense. Suitable for every type of use and modern, every fragrance can be chosen based on taste and function, for its fruity, green, floral, musk, flowering citrus, oriental or amber notes.
ESSENTIAL OILS
We offer a complete range of essential oils, extracts, absolutes and concretes. Our essential oils come from all over the world depending on their "geographic specificity", but even to guarantee maximum economy and supply continuity. Our oils are selected according to rigorous criteria and specific laboratory test programs.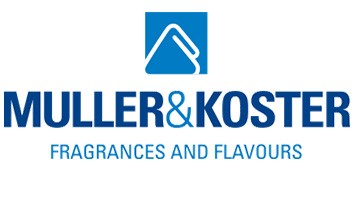 Innovation and Quality
We believe that the quality of our fragrances derives at least from three main factors:
- the quality of raw materials, which we seek all over the world and select with care and attention.
- the scientific activity and the technology of our research laboratories, that, thanks to the most modern analysis and control tools, verify the quality of the product in each processing phase.
- the human value, since passion, preparation, competence and commitment of highly specialized technicians guarantee to the end customer the standard of excellence of each product.
Since 1996, Muller & Koster has its own Certified Quality Management System in conformity with the UNI EN ISO 9001:2000 Standards, and in 2002, it was awarded the honourable mention in the Lombardy Regional Quality Award. Since 2010 Muller & Koster has implemented an Environmental Management System and since 2013 follows the GMP guidelines for cosmetics.
news
A Hot Chili Pepper Collection to spice up your beauty rituals #fragrances...
[Read more]
A special seasonal collection of gorgeous natural fragrances to help cosy up and get your home winter ready. #fragrances #trends...
[Read more]
Right now, there are 110 days until Christmas 2022! Our experts analyzed the data of the best performing products during the holiday period and predicted the biggest trends. It will be all around pleasant festive celebrations at home, fill your home with lovely Christmas smells and...
[Read more]
Read more